Home
> Compare my solar >
Blog
December 14, 2011

Research by CompareMySolar shows that domestic solar panel installations in the UK have dropped in price by 30% in 2011. Further price drops are expected early 2012, as many solar installers offer low priced deals to push demand in the months after the FiT cuts. This can result in a financial return of over 10% for a South-facing roof.

The price of domestic solar panel installations in the UK has dropped by 30% this year. Our "Solar panel price index" based on over 1000 quotes for residential installations shows the best prices declined from £3.70 towards £2.50 per Watt-peak. This means a 16 panel system of 4kWp can now be bought for around £10.000 whereas it would cost nearly £15.000 at the start of 2011.
Gertjan van der Goot, founder of CompareMySolar commented: "Our UK price index from over 100 solar installers shows strong price drops in 2011. We expect further drops early 2012 as many solar installers have great deals coming up to drive demand after the recent Feed-in-Tariff cuts. We hear deals are coming up asking £8-9.000 for a 4kWp system, which would align UK prices with other European countries."
Financial return of domestic solar panels can be over 10% following these price drops. Combined with high energy prices and low saving rates, solar panels on your roof remain a very good investment in 2012. According to CompareMySolar it remains key to compare prices, since average prices can be £3.000 pounds more than the best deals. Their comparison website offers online quotes from local installers, including return calculations for your roof.
Autor: CompareMySolar
April 20, 2011

Research by CompareMySolar shows that UK Solar Panels have a lower cost per kWp than average prices of Electricity, Petrol and even foods like Sugar and Rice. It is expected that Solar panels will only become more attractive in the future as electricity, petrol and food prices are increasing rapidly, while solar panels are actually becoming cheaper. Solar panels prices become clear with CompareMySolar, the price comparison website for solar panels for your home.
Solar panels cost is most often expressed as a price per watt-peak, which tends to be lower for larger systems due to efficiencies of installation. However the output of solar panels differs by region and depends on the intensity of sunlight, hence the cost per unit of electricity generated (kWp) differs per region. For several regions in the UK, here are the current cheapest costs for a 4 kWp system based on pricing data from CompareMySolar:
Table: Cost of a 4 kWp of Solar Panel System (lowest price April 2011) / kWp generated over 25 years / cost per kWp generated
Hence in the UK, the best price solar panel system currently costs about 12.0 pence per kWh generated. How does this compare to other consumer measures of energy, for example the cost of electricity, petrol or food?
The average electricity price in the UK in January 2011 per kWh is about 12.8 pence according to Ofgem, which equals of the cost of solar panels. It should be kept in mind that electricity prices have been rising quickly, and we expect them to rise about 5% annually towards over 40 pence per kWh in 25 years.
For petrol, the price per liter is about 136 pence in the UK (April 2011) An average UK car drives uses about 80 kWh or 8 liters per 100 km, which means there are about 10 kWh in a liter of petrol. Hence with the current petrol price this equals a price of 13.6 pence per kWh, which is comparable to the electricity price.
For food we took three low cost products with high Calories: a big mac, sugar and rice. The calculations are based on 860 Calories per kWh. A Big Mac costs about 2 pounds and contains approximately 490 Calories. Which equals about 0.6 kWh or more than £3.50 per kWh!
Other foods like sugar and rice are often stated to have a low cost per calorie. At Asda a large 2 kg bag of Sugar costs £1.34 and has 7740 Calories (9 kWh) which equals 14.9 pence per kWh. A large bag of 5kg of rice costs £4.18 and has 14800 Calories (17.2 kWh) which equals 24.3 pence per kWh. All these costs per kWh are compared in our graph and shown below: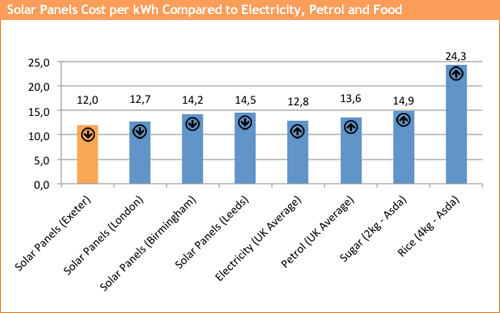 Concluding, the solar panels cost per kWh in Exeter is cheaper than electricity, petrol and food in the UK. Solar panels will only become more attractive as electricity, petrol and food prices are increasing rapidly, while solar panels are actually becoming cheaper. According to Solarbuzz, the module cost of individual panels has declined 50% in ten years from €5.41 towards €2.73 per Wp in Europe.
Furthermore, the government incentives of 43.3 pence per kWh generated largely outweighs the cost, which makes solar panels an incredibly good and stable investment! Not only do you receive 43.3 pence from the government, but you also save the cost of electricity! See what you can earn with your roof now and check solar prices on www.CompareMySolar.co.uk
Autor: CompareMySolar UK - Gertjan
Source: Ofgem, Petrolprices, Wikipedia, Calorieking, Solarbuzz
April 18, 2011
The UK Feed-in-tariff has been around for one full year now, and solar panels are clearly becoming much more popular in the UK than ever before. A total amount of 77,864 kWp or 28,602 solar panel installations (average 2.7 kWp) have been reported to Ofgem, the government energy regulator, between April 1st 2010 and March 31st 2011. Over 90% of this was installed in England, and the rest in Schotland and Wales (Northern Ireland consumers can't apply for FiTs for now). Looking at these UK solar panel installations, what are the most popular areas?
Using Ofgem data we created the UK map below, showing the number of solar installations per county in the last year. Popular counties (> 500 solar panel installations) are located in three clusters. The first is the South-West, from Devon (931) and Cornwall (527) till Hampshire (918) due to the large amount of sun-light available in these counties. The second is the richer part of counties around London in the South-East (e.g. Hereforshire) as these people are more likely to have larger roofs and financial means to buy solar panels. The third part are the counties in the Midlands: West-Yorkshire (820), South-Yorkshire (1697) and Derbyshire (600). The main reason for the popularity here is the 'Free-Solar' option promoted by several local companies. Together these clusters of counties account for nearly 50% of installations.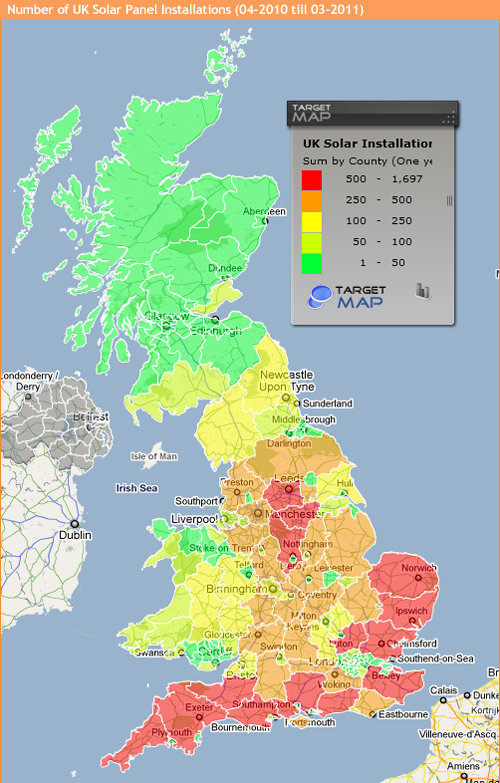 But what does that tell about the popularity of solar panels? To account for the number of people in each county we created the next graph, showing the installed solar panel capacity in Watt-peak per person. Counties with more than 2 Watt-peak per person are in the popular areas. From here you can clearly see the popularity in the warmer South-West region (e.g. Devon 3.4 Wp/person and Dorset 3.9 Wp/person). Also, the 'Free Solar' has resulted in 4.2 Wp/person in South Yorkshire. Surprisingly, around the Herefordshire (3.5 Wp/person) and Wales there is another popular area. Even more surprising, the Isle of Wight (7.4 Wp/person) is most popular for solar panels in the UK!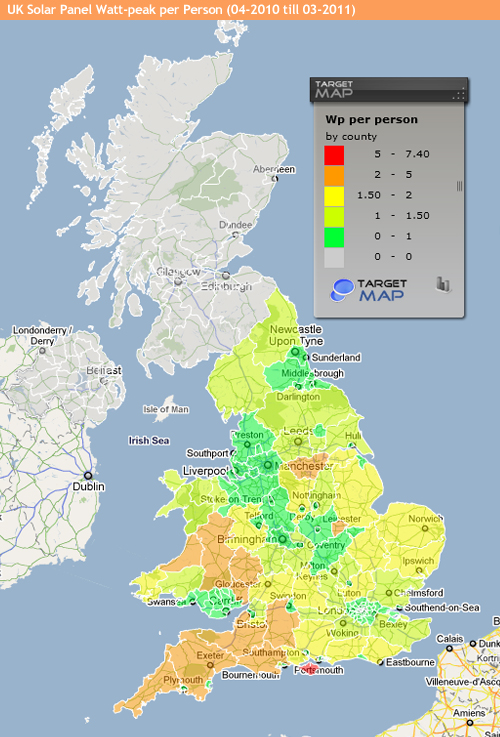 Putting the above in perspective, the 77 MW in the UK compares to over 7500 MW (7500 Million Wp) in Germany installed in 2010. Since they have a population of about 82 million, the installed capacity of solar panels in Germany was nearly 100 Wp per person in 2010 alone!
Autor: CompareMySolar
Source: Ofgem, CompareMySolar
April 15, 2011

As of 1st April 2011 the UK Feed-in Tariff rates increased 4.8% in line with the retail price index. CompareMySolar has updated all calculation modules to these new rates, which makes going solar even more attractive in the coming year! Please note that per April 2012 the government will review the tariff and they will likely be lowered.

Adjusted Solar PV Feed-in Tariff rates: 1 April 2011 - 31 March 2012
| | | |
| --- | --- | --- |
| Solar PV System size | Old Feed-in tariff (pence/kWh) | Updated Feed-in tariff (pence/kWh) |
| ≤4 kW new build | 36.1 | 37.8 |
| ≤4 kW retrofit | 41.3 | 43.3 |
| >4-10kW | 36.1 | 37.8 |
Autor: CompareMySolar
Source: Ofgem
April 14, 2011

Note: the following represents the personal experience of installing solar panels captured in a blog posting by a customer of one of our installers. While normally the installer would provide panels, scaffolding and installation in one fixed price, that was not the case here. It does however provide a nice visual example of a solar installation. Regards, CompareMySolar UK
Improving our Carbon Footprint!

Around 4 months ago, which seems like a long time ago now we made enquiries about 'Going Green' and installing some Solar Panels on the roof of our home to generate the Energy called 'Electricity'. After some disastrous, and I mean disastrous encounters with organisations that will sell you the complete package but the knowledge of the salesman you could fit on the back of a postage stamp I decided to go 'Semi DIY'!
I found an organisation called 'The Energy Savings Trust' who provide free of charge extremely helpful information and assistance, so after a conversation and help from them I decided to go down the route of 3 basic steps:
1) A Solar Panel 'Kit'.
2) A Certified Installer to install the 'Kit'
3) A Scaffold Company
Having decided on 16 x 200 Watt Solar Panels from the Solar Panel Kit supplier and agreed a date for delivery of 14th February 2011, (St Valentine's Day).
The next job was to identify a Certified Installer and try to get the next day for the Installation to commence, namely 15th February, but also to identify and get a Scaffolder to erect suitable scaffolding that would go right along the rear of the house, as there is a rather large conservatory to consider!
We had a slight change of delivery date for the Solar Panel Kit that arrived on 11th February as I asked if it could be brought forward to help them me out as it meant that we would not block the road with Trucks & Lorries offloading various items for the job! Luck was also with me on the other requirements as I got the Scaffolder & Certified Installer who both turned up on 14th February.
The Scaffolder, who arrived at 07:30 as we just fell out of bed, commenced erecting the 'Scaffolding Framework'. His Gang of 4 were followed at around 09:30 by the Certified Installer who wanted to check all the parts, along with some preliminary work on the electrical connections.
Within 2 hours the scaffolding was really taking shape: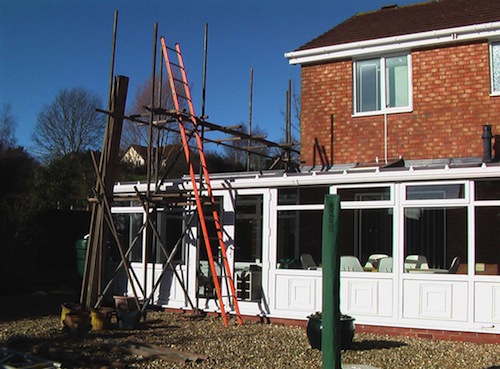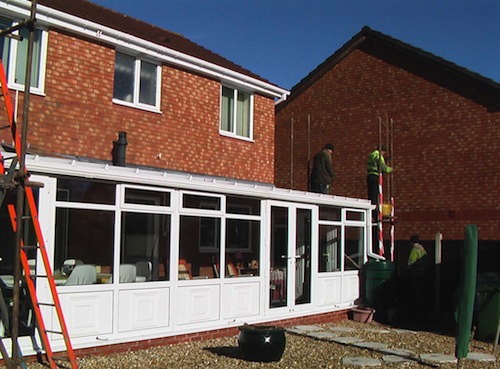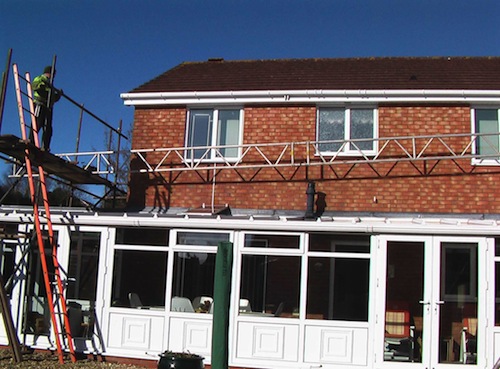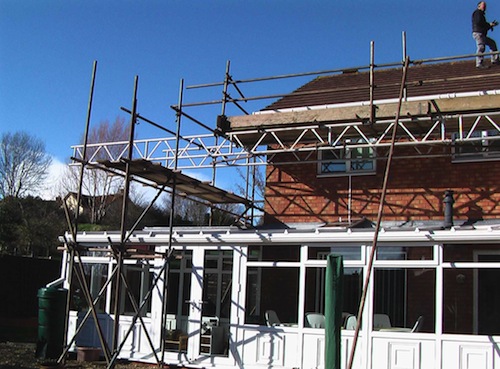 5 Hours later the scaffolding was ready for 'handover' to the Certified Installer!
The first job of the Installer was to determine where the 3.2Kw Inverter was to be fitted. This is the Electronic Device that converts the 'DC' electricity from the Solar Panels into 'AC' electricity that you use in the house, and while the Inverter was quite a heavy item it needed to be fitted up in the roof of the house, so a framework was made on the roof trusses with a large piece of plywood fastened to the framework, and then a piece of plasterboard was fastened to the plywood for insulation.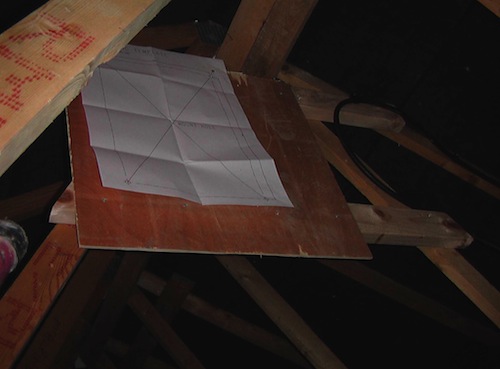 The horizontal pieces of wood were fitted to hold the large piece of plywood with the template for the Inverter held in place with a couple of small nails. Next picture shows the Inverter mounted on the piece of Plasterboard which in turn was fixed to the Plywood and horizontal wooden bars. It also shows the Armoured Cable (Black) that takes the AC electricity from the Inverter to something called the 'Generation Meter' that records all the electricity that the Solar Panels have 'produced' and is fitted at the other end of the cable in the Garage where it is easy to read!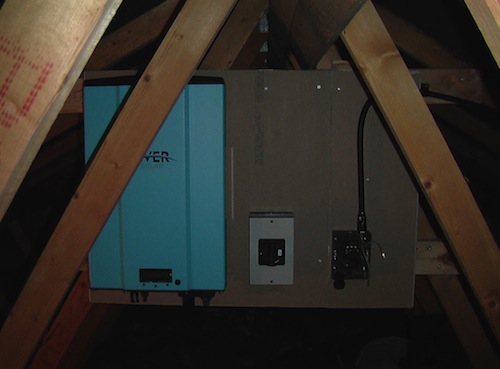 The next job was to fit the Generation Meter, Fuse Box and AC Cut off Switch on a small wooden board next to the House Fuse Box, and here it is: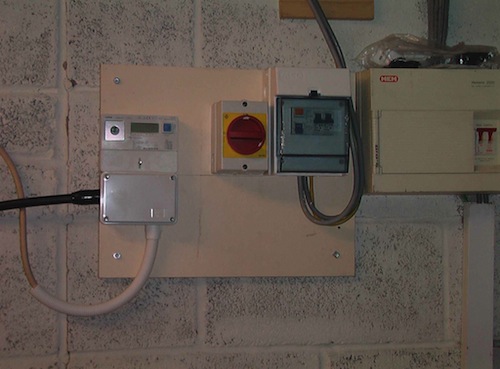 You can see the other end of the Armoured Cable going into the Junction Box below the Generation Meter. The 'Red' Switch is the AC Isolator.
Next picture is of the roof trusses before the wooden strengthening bars were fitted.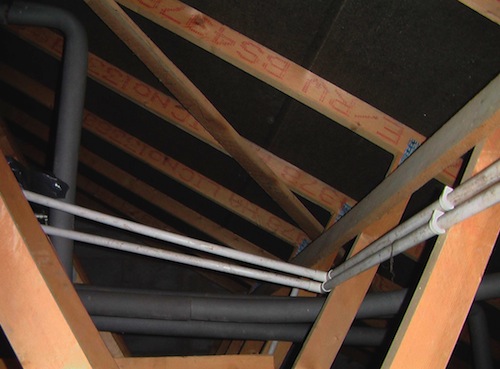 In the next picture you can see 2 short pieces between the roof trusses and a long piece of wood that is screwed to all the trusses to improve strength.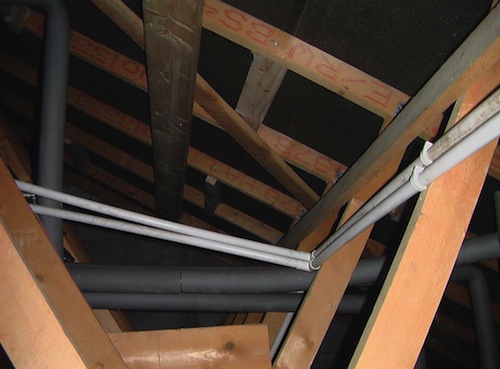 Next job was to start fitting the 'Roof Anchors' that fit under the roof tiles & are then held in place with 5 Stainless Steel Wood Screws that are screwed into the roof trusses and wooden reinforcing bars that you saw in the previous picture!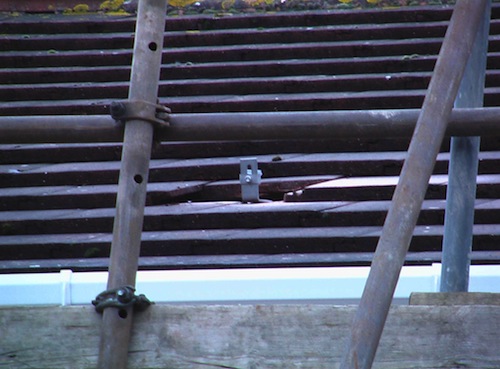 The 'Roof Anchors' are the main component that holds the 'Mounting Rails' and 'Solar Panels' in place on the roof so their strength and fixing to the roof is of paramount importance, especially as they are expected to remain in place for over 25 YEARS!
Having got all the Roof Anchors in place to hold the 4 Mounting Rails and 16 Solar Panels, it was time to fit the Mounting Rails with some of the End & Mid Clamps that would then clamp the Solar Panels to the Mounting Rails.
The next pictures show the first 3 of 4 Mounting Rails in place and then the 4 Rails with the End & Mid Clamps for the Solar Panels.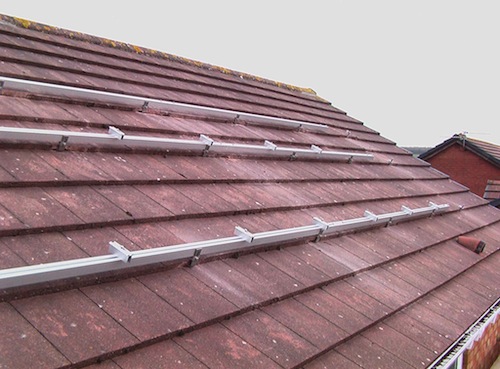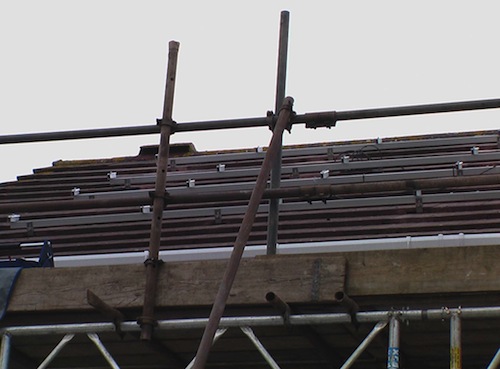 Now comes the 'Fun Bit' as you will see that the Solar Panels are quite BIG!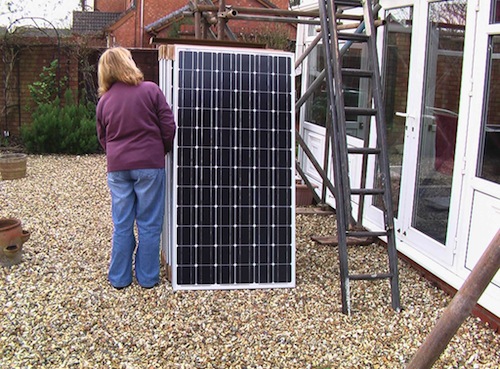 So each of 16 panels had to be lifted up to the top of the scaffolding by hand and then onto firstly the top 2 Mounting Rails for installation! Here goes the first!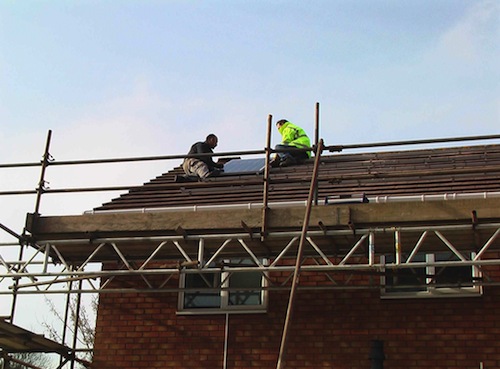 2 Hours later we had the first row of 8 in place and wired up, you can just see the 9th panel going up in the bottom left hand corner!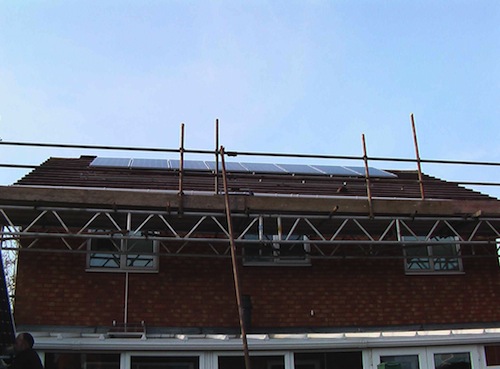 By the end of the day all 16 were in place!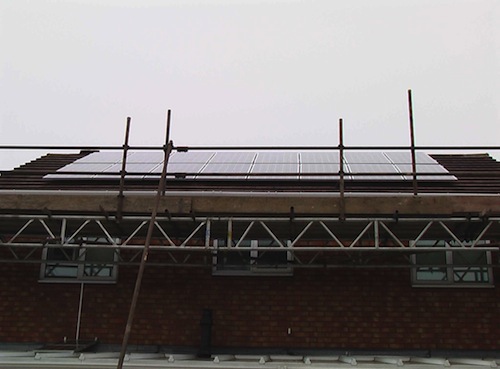 Then we saw the Certified Installer completing all the electrical connections with what felt like for him '1001 Tests, Safety Checks & Labelling' before it was pronounced OK to GO!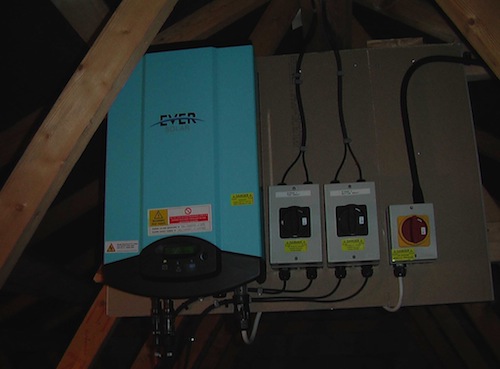 You might just see the Green 'Spot' on the 'Darth Vader' Black cover on the bottom of the Inverter that means its working! Unfortunately it has been quite cloudy today so the system has not been generating any 'Power', but has managed to 'Fire Up' and show us that when the English Sunshine comes it will be ready and waiting, and that could be a few days off as the current weather forecast is 5 days of RAIN!
The next picture is of the finished set up at the point that any Energy is fed into the National Grid. On the left hand side is the 'Generation Meter' with the small screen that tells you how much electricity you have 'produced', next to that with the BIG red 'thingy' is the Isolator Switch, and next to that is the Solar System Fuse Box with all the required 'Safety Labels' in Red Yellow and Black!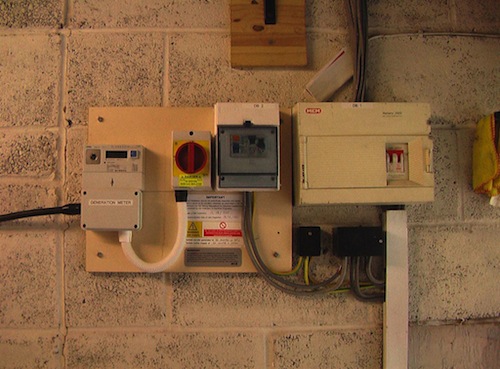 The technical assistance and installation provided by the Certified Installer and his partner was excellent, and hopefully we should see some good results when the Sun starts shining!
Job Done!

Autor: CompareMySolar
April 13, 2011

CompareMySolar.co.uk is a new and innovative solar panel comparison website that helps customers learn about the potential of solar panels for your own roof without going through a lengthy process of getting custom quotes. We offer a quick and simple overview of solar panel system prices, the experience of local solar installers and details about the financial return for your selected roof. Buying solar panels can be a daunting task, but becomes clear, quick and easy with CompareMySolar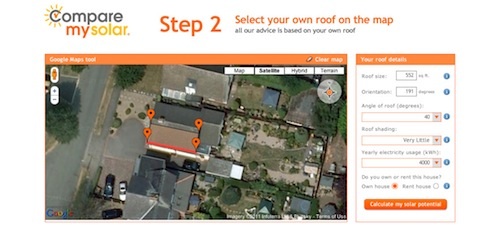 The website is free to use and has launched in the Netherlands, Belgium and the United Kingdom. The comparison is always based on the unique roof selected by the customer. Local installers show actual prices, expected financial returns, their own experience, warranties and system specifications. When interested, the customer can request a detailed quote of site visit from up to three chosen solar installers.

Some example pictures about our 5 step process are included in this article. First you start to select your own roof (step 2), for which we provide the unique solar potential of this roof (step 3). Then you can compare and sort solar panel systems from local installers based on actual prices, financial returns for your roof, specific brands, and installer warranty / experience (step 4). We provide you with all relevant information to make a good choice about solar installers to invite for a site visit.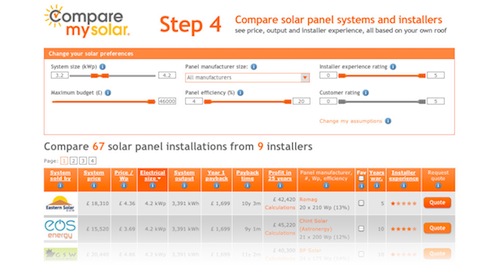 Currently over 50 installers are using this service to get into contact with highly interested customers. These installers save a lot of time and money in their quotation process by focusing on well informed customers that specifically request a site visit or detailed quote from their company, and have instant access to all roof details from the customer. Buying solar panels becomes clear, quick and easy, so get started now and check the solar potential of your own house on www.CompareMySolar.co.uk
Autor: CompareMySolar UK - Gertjan
April 13, 2011
In the United Kingdom it is required to have your solar panels installed by an MCS accredited solar installer in order to benefit from the generous government Feed-in-tariffs. Since these tariffs have only been introduced in April 2010 the number of MCS accredited installers has been growing rapidly since.
As the graph below shows, there are currently nearly 1600 solar installers operating in the UK (source: MCS). This is nearly 14 times the number of solar installers in July 2009 (113) and more than 6 times the number of solar panel installers one year ago (300). Hence over 80% of installers entered the market only in the last year. And with accreditation companies like Easy MCS boasting a '100% MCS Accreditation pass rate' there is no doubt the number of solar installers will continue to grow.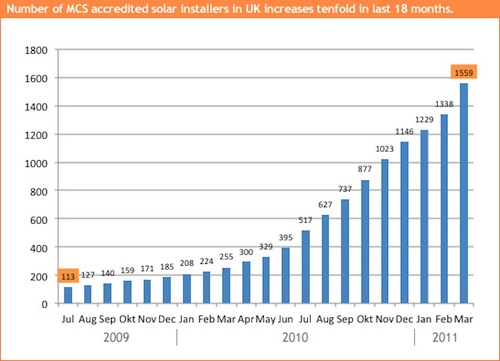 However, the UK solar panel market has not been keeping up with growth in the number of solar installers. According to Ofgem in June last year the new FiT applications for solar panels in the UK were about 3.500 kWp, which equals rougly 9 kWp per solar installer. In March this year it had only grown towards 6250 kWp, which is only about 4 kWp per solar installer. The graph below illustrates this trend towards less solar panel installations per installer, hence more competition: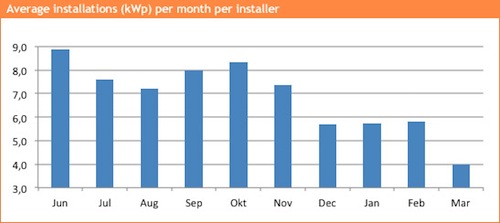 More competition between solar installers means sharper prices for the consumer, but after a while the UK market has to find a new equilibrium. This balance can either be obtained by more demand for solar panels from consumers, or by less solar installers competing for the same pie. Therefore, if consumer demand for solar panels does not keep up with the number of installers, quite some installers may be struggling to remain in business in the near future.
A key question for consumers is how to select the right solar installer in the face of such uncertainty, which becomes increasingly difficult if there are so many solar companies to choose from. Furthermore, you want to make sure this solar installer will still exist in 5 years' time to have relevant warranty. We provide some important selection criteria in our solar education. From these the reputation / experience of the solar installer is probably the most relevant factor.
CompareMySolar is here to help consumers because we make the choice for solar panels personal, easy and accessible for everybody. We can help you make the right choice for a reputable and experienced solar installer – just enter your address now!
Autor: CompareMySolar UK - Gertjan
Source: MCS, Ofgem
November 3, 2010


Today marks the start of CompareMySolar, a company idea we (Stefan and Gertjan) have been working on full-time since August 2010. We will make the orientation about solar energy easy and accessible for all consumers. Our website offers customized advice about the solar potential of your own roof, and compares actually available solar PV systems from local installers.
Besides the website we give personal telephone advice about solar energy to all our users, through a follow-up phone call during which we answer all your questions and verify your solar potential. We help you to select up to 3 installers to invite for a site survey in your house, and connect you with them through a confirmation of an actual appointment.
Currently we have over 30 solar installers signed up in our three launch countries (the Netherlands, Belgium and the United Kingdom) and this number is growing rapidly. Any MCS approved installer can join us, and we help them reduce their marketing costs and talk to better informed customers.
We believe in solar energy, and we want to help you to make the right choice – which is not an easy task. Solar energy requires a large upfront investment, and there are a huge amount of panels and installers to choose from. Price matters, but quality is just as important, and consists of things like the installer experience, accreditations, materials used and the experience of other consumers.
Let CompareMySolar help you to make the right choice – enter your address now!
Autor: CompareMySolar UK - Gertjan
November 3, 2010


The solar energy market in the United Kingdom is booming. The government Feed-in-tariffs introduced in April 2010 yield immediate installed PV system Internal Rates of Return between 8% and 11% over the next 12 months. Many consumers are becoming aware of the solar potential of their own home.
It is estimated that there have been over 3.500 solar PV installations in August 2010, which is an increase of 700% compared to April 2010. Most of these installations have been done in England, with the South East and South West regions accounting for 45% of the English market in capacity terms.
At the same time the number of MCS accredited solar installers has grown very rapidly. Installation by an MCS accredited installer is a requirement to receive feed-in-tariffs, so most of these companies are new entrants. As our graph below shows, there are currently nearly 900 solar installers operating in the UK. Over 80% of MCS accredited installers have entered the market only in the last year.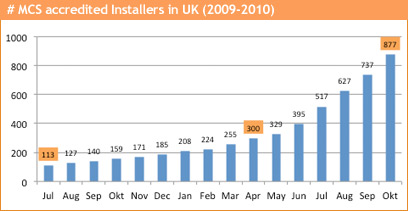 The total UK solar PV market was around 6 MW in 2009. Estimates for 2010 are predicting huge growth of up to 1500% towards 96 MW. Due to the step-wise decline in Feed-in-tarrif based on system size, most of this capacity will be installed in smaller 'retrofit' systems on residential roofs – as the tariff is highest here (41.3 pence per kWh).
In such a growing market it becomes difficult for consumers to make the right choice. CompareMySolar is here to help consumers because we make the orientation phase for solar energy personal, easy and accessible for everybody. We help you make the right choice – enter your address now!
Autor: CompareMySolar UK - Gertjan
Source: Solarbuzz, Micro Generation Scheme, iSupply
November 3, 2010

Besides on your roof, solar panels have been applied to many other products. Solar panels can hence impact many situations in our daily life where we need electricity that does not come from the socket. Below we present an overview of ten surprising products using solar panels: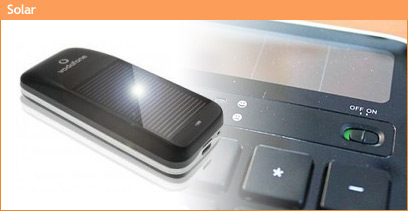 1. Mobile phone: especially in rural areas of developing countries, electricity is not a given. Phones with solar panels only need a one hour charge to have a day of standby time, play music for 90 minutes or send at least 30 text messages. And retail prices start at only $59.
2. Plane: a one-man plane set the record in non-stop flight at 26 hours (including night time) using solar energy only. Although the 12,000 solar panels require a wingspan of 207ft, the plane weights only 1,500 kilogram. Next mission: fly around the world.
3. Everyday items: although solar panels can generate electricity for your house, not all items are plugged into the electricity socket. So solar panels can be used in a guitar tuner, a remote control or a computer keyboard
4. Road: rather than using asphalt, why not let cars and trucks drive over a road made of solar panels? The resulting road network would pay back for itself, and electricity can be used for signage, charging cars, and even homes. And replacing all roads in the US would generate enough electricity to power the whole world.
5. Space sailing: seen in science fiction films, but currently actually in use. The first solar propelled space craft was launched in June 2010 and will spend six months traveling to Venus, before it will begin a three-year journey to the far side of the Sun.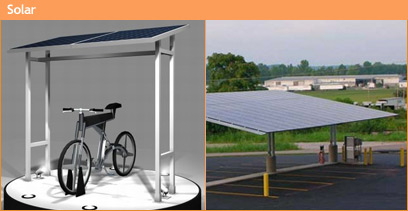 6. Mercedes Roof: in their 2012 LKS model, Mercedes plan to use a new retractable solar sunroof. The roof is made using polymer and panel glass, has advanced electronics to regulate the transparency, and still operates perfectly in extreme climates.
7. Car Park: with electric cars coming our way we need more ways to charge them. Solar powered car-parks are a solution: you do your shopping while your car stays cool in the shade and can be fully re-charged. Smaller, residential-size solar carports are also available.
8. Electric Bike: helping you to move uphill, a new solar powered electric bike requires just two and a half hours of charging from the solar modules. Designed for the daily commuter, why not let your solar bike recharge itself while it sits outside?
9. Tent: going to a festival can be a muddy experience, and finding your friends is difficult when you mobile phone is empty. So why not use the comfort of a solar tent
to charge your phone or laptop and provide some light in the night.
10. Personal Fan: hot day in the summer? Cool down with this mobile solar-powered ventilator that can easily be attached to your favorite cap. You'll regret burning in a summer day when going out while you have forgot wearing it oh!
Autor: CompareMySolar UK - Gertjan
Source: Solarfeeds, BBC, TechCrunch, Wikipedia, Google