Freesource Energy Ltd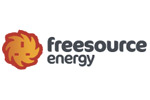 Unit 2 The Old Brushworks, Pickwick Road
SN13 9BX
,
Corsham
Experience rating
Working Area
Company description
Installers of renewable technologies and energy reduction products, including Solar Thermal and Heat Pumps
Services
Inverter brands
No inverters selected by this installer.
Accreditations
No accreditations selected by this installer.
Customer feedback about Freesource Energy Ltd (0 / 5)
(based on 0 reviews)
Awaiting first feedback.