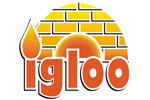 Igloo Environmental Ltd
73 High Street, CM6 1AE, Dunmow
T: 01371 859004
www.igloo-eco.com
admin@igloo-eco.com

and find the right installer
Company profile
Description
Igloo was formed by two relatively old hands in a new and exciting industry. As a result of growing demand for renewable energy technologies from new and existing clients, Warren Brown & Peter Sturgess formed Igloo Environmental Ltd in 2009. Warren has been involved in the construction and property maintenance industry for over 25 years and he has a wide range of knowledge and experience in property development, building design and construction. His interest in renewable energies was born out of his desire to embrace and incorporate developing technologies into his building and development projects. Peter has over 30 years experience in the roofing and property maintenance sectors and his involvement in the solar industry started some years ago. As a roofing contractor, Peter was approached by a major organisation to install solar panels on hundreds of their properties. At the time very few companies were equipped for such a task and this was Peter's introduction into the world of renewable energy. Andrew Gilbert joined the management team six months after Igloo was born. Andrew's background is in the heavily regulated financial services industry and his 25 years of experience in sales, training and management has been critical in helping to shape Igloo's huge growth over the last year. Igloo has experienced, knowledgeable and motived teams of installers, each one undertaking 2-3 installations a week. These range from small domestic projects to large commercial installations on farm buildings. We are approved installers for the largest Housing Association in the UK and we contract for a number of large construction firms.
Installer warranty
Igloo offer a 10 year insurance backed guarantee on their workmanship underwritten by the Independent Warranty Association. The solar panels used by Igloo all come with a 5 or 10 year manufacturers breakdown warranty with a 25 year generation warranty on the cells. Igloo's inverters come with a standard 5 year warranty with the option of extending the warranty for up to 20 years. With all systems the EPC and structural roof survey are included as standard.
Warranty on installation: 10 years
Additional services
Bespoke Eco Construction, Solar Thermal, Air Source Heat Pumps, Ground Source Heat Pumps, Insulation.
Company location
Experience rating
| | |
| --- | --- |
| Year started selling solar PV: | 2010 |
| MCS qualified installer: | Yes |
| Nr. of employees in solar PV: | 20 |
| kWp of solar PV to consumers: | 250 |
| kWp of solar PV to commercial: | 250 |
Customer rating
Awaiting first feedback.