Solar panels and solar installers:
Home
>
Installer feedback
Modern Electrics Ltd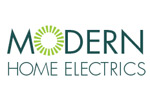 22 Titsey Road
RH8 0DF, Oxted
Experience rating

Customer feedback
Working Area
Customer feedback about Modern Electrics Ltd (4.7 / 5)

(based on 6 reviews)
J. Wheeler - Tonbridge, Kent
-
20-07-13
Quoted listened and understood my requirements, was open to my suggestions, got the Job.
P. Street - Cambridge
-
07-11-13
Knowledgeable and honest. Pointed out that even with the best control equipment it would be unlikely to achieve a good return. I would use this contractor. I will probably now be moving house and anticipate using MHE Ltd when settled. Good price and VFM projection but not practicable to proceed in my case.
B. Phelps - Baldock, Hertfordshire
-
11-11-13
Good impressions from this installer
K. Daoudi - Maidstone, Kent
-
13-11-13
Job awarded awaiting installation.
P. Cannard - Woodbridge
-
06-12-13
Good impressions from this installer.
T. Gibbs - Croydon
-
12-10-15
Very knowledgable installer who is very helpful and had a variety of good proposals following a visit and thorough look at the roof, location, loft space and consumer units. Will probably go with.