Comparison Table - Overview
CompareMySolar is a comparison website for solar panels for your home. Based on your postcode, we show your real solar panel prices from local installers. All prices are updated by your local solar installers. You can compare your results based on variables that matter to you, whether that is price, installer experience, warranty or specific panel brands. We give you a unique tool that allows you to change results with the sliders and sort the outcomes by each table column.
You can request up to 3 solar panel quotes from our network of 100+ local solar installers, and personalize financial calculations for your own roof (get help about selecting your roof). We verify your solar potential and give our advice by phone. After your approval we send your information only to installers you select, who can schedule a site survey. Following the survey the solar installer makes a detailed quote that is unique for your home, and all detailed quotes are free and non-obligatory.
I need help with: Top 5 tips / Sliders / Table columns / Assumptions
Set your solar panel preferences using the sliders (e.g. 3.5-4.0 kWp)
Refine calculations for your home using solar potential slider (e.g. 85%)
Sort the results on any table column (e.g. price/wp)
Check detailed calculations for 25 years (click on 'calculations')
Invite three installers to get a relative perspective of who is good
Above the comparison results table there are six sliders that allow you to set your search criteria:

Slider
Explanation
Tips about usage
General Usage
Adjust sliders to state your preferences. Output table shows resulting solar panel system options from local installers.

Drag around with sliders and see results change
Sort table on any column to see range of results

System size (kWp)
Drag orange slider to change your preferred system size in kWp (kilo Watt-peak). Our system returns the most optimal system of this size only for each local installer.

Systems below 4kWp receive the high FiT of 16p / kwH
Systems above 4kWp receive the low FiT of 14.5p / kwH
Results are sorted by default on system size (high to low)

Maximum budget (£)
Drag orange slider to change your maximum budget for the solar PV system

Setting system size and sorting on price / Wp gives a good idea of budget ranges

Panel manufacturer size
Here you can set the minimum company size (by annual production volume) of the panel manufacturer or select specific panel brands. You can use it as a proxy for warranty, as it can be important that your panel manufacturer will still exist in 20 years.

Popular brands are: Sharp, Yingli, Trina Solar, Sanyo (high efficiency)
Common value for money brands are ET Solar, Upsolar and Mage solar
Focus on manufacturer size rather than technical details. Getting peace of mind is key

Panel efficiency (%)
Panel efficiency shows how much light from the sun is converted to electrical energy per square foot. High efficiency panels start at 16%, low efficiency is everything below 10%

High efficiency panels would only be advised for a small roof, as it needs less m2 for the same system size
Comparing quotes for medium and high efficiency shows the price premium

Installer experience rating
The installer experience rating shows how much experience an installer has. Click on the logo of any installer in the list below to view all components of this rating.

Experience rating based on years since start, number of employees and kWp installs
Over 90% of companies started only since April 2010, hence experience is relative

Solar potential (%)
Select the estimated solar potential of your house from the table included based on the angle and orientation of your roof. Or click on 'calculate for my roof' to get an accurate potential

Solar potential impacts output and financial returns
Table does not take into account effects of shading
Select your own roof to calculate your potential
kdkdkdk
The comparison table shows a lot of information and can be overwhelming. Here are tips about each column:

Table Column
Explanation
Tips about Usage
Local installer
Your local solar installer, click to see profile.

We only show installers that operate / visit in your area
Each installer manages their own work area(s) and prices

Price incl. VAT
Total price of the solar system (panels, inverter, installation). One-off local incentives (see assumptions) are deducted from this price.

Prices incl. VAT kept up-to-date by each installer
Prices always subject to site survey to get unique quote for your own home
Certain price exceptions (e.g. high house, difficult roof tiles, extra fuse box needed) could increase stated price

Price / Wp
Price of the solar system per Watt-peak, serves as a good measure of the relative system price.

Sort on this column to find your best value systems
Allows to compare price of different system sizes

Electrical size
Electrical size of system in kilo-Watt-peak (1.000 Watt-peak). Measure of system output under standard testing conditions.

Sum of panel output: e.g. 20 panels of 200 Wp is 4.000 Wp which equals 4 kWp
Same system size is expected to generate same power output on your roof
No panel differences included in calculations

System output
Estimated yearly electricity output in kilo-Watt-hour (kWh) on your own roof rather than under standard testing conditions.

Based on solar insolation (location) and solar potential (angle, orientation, shading)
Basis of your financial return, as you get paid per kWh

Year 1 payback
Money your solar system returns in the first year, sum of Feed-in-tariff, electricity savings and export tariff.

Most certain financial return metric, not subject to assumptions about inflation
Good base of ROI calculation

Payback time
Number of years after which your solar system has returned the initial investment. Heavily dependent on assumption of energy price inflation.

Try to get installer warranty higher than payback time
Heavily depends on assumptions of inflation
Good if less than 10 years

Profit in 25 years
Total profit you have received after a system has been working for the calculation period (default 25 years). Click 'calculations' to see details.

Sum of 20 yearly FiT pay-outs and electricity savings minus purchase price
'Calculations' provide details for each year / componentPanel brand, size

#, Wp, efficiency
Solar panel information: the manufacturer, the number of panels, the size of each panel in Watt-peak, the efficiency of each panel. Click to see spec sheet.

Click to see spec sheet
System size in m2 should fit on your available roof space
Panels with a high Wp are simply larger in m2

Distance
The distance in miles to the installer.

Distance to main address (head office)
Could have local offices that are closer

Years warranty
Years of warranty on the installation as provided by the installer.

Optimal if 5 or 10 years
Insurance backed warranty only relevant if paid upfront

Experience rating
Installer experience rating shows how much experience an installer has. Click on the logo of any installer to view all components of this rating.

Experience rating based on years since start, number of employees and kWp installs
Over 90% of companies started only since April 2010, hence experience is relative

Request quote
Click Quote to enter your details and request a free and non-obligatory detailed quote from the selected installer.

Your details are only sent to solar installers you choose
Besides the sliders and table columns there are some advanced assumptions that impact your calculations: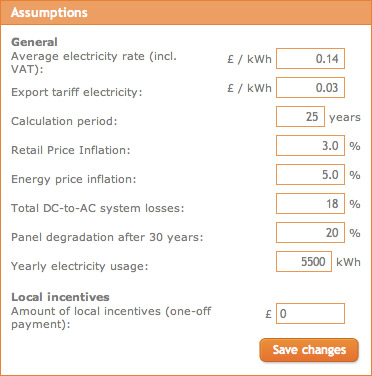 | | | |
| --- | --- | --- |
| Assumption | Default setting & rationale | Tips about Usage |
| Average electricity rate (incl. VAT) | £0.15 / kWh – based on average cost for UK consumers (DECC) | Set to your own average cost / kWh (or your daytime rate) |
| Export tariff electricity | £0.045 / kWh – set export rate valid for all electricity suppliers | Using your electricity in your house returns 5 times more than exporting to the grid |
| Calculation period | 25 years – industry standard | Solar panels have an average lifetime of over 30 years |
| Retail Price Inflation | 3.0% - UK average (10 years) | Used to adjust the Feed-in-tariff rate in yearly calculations |
| Energy price inflation | 5.0% - Conservative estimate based on 7% average (10 years) | Used to adjust the electricity savings in yearly calculations |
| Total DC-to-AC system losses | 18% – industry standard | Losses from e.g. cables, inverter and small debris |
| Panel degradation after 30 years | 20% – industry standard | Most manufacturers guarantee 90% after 12 years, 80% after 25 |
| Yearly electricity usage | 4000 kWh – based on a 2 bedroom house (DECC) | Used to calculate electricity savings, all kWp generated are preferably used in your house (up to yearly usage) |
| Amount of local incentives (one-off payment) | £0 – Local incentives not common in UK | Check with your local council if specific arrangements exist |