Claydon Microgeneration Ltd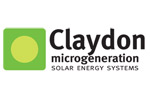 1 Edison Road
HP19 8TE
,
Aylesbury
01296 434611
Experience rating

Working Area
Company description
Claydon Microgeneration Limited specialises in offering a total package of design, supply and installation of Solar Photovoltaic (PV) panels for homes, businesses and public sector buildings. Our mandate is to provide professional advice on feed in tariffs (FITs), solar products, PV mounting systems and so on, to enable any customer to capitalise on unlimited solar energy to provide green electricity through microgeneration. Claydon Microgeneration have carefully selected Schueco as our primary partner for this venture, as they have been at the forefront of this technology for many years in other countries, particularly their home country Germany, where the feed in tariffs there have helped grow the market for Solar energy, and Solar PV particularly, exponentially over the last decade.
Services
Warranty
All installations carried out by Claydon Microgeneration are fully warranted for 5 years. In addition, every different module type we offer has a minimum performance guarantee of 90% for 10 years and 80% up to 25 years.
Example installations
Customer feedback about Claydon Microgeneration Ltd (3.9 / 5)
(based on 25 reviews)
D. Butler - Hook, Hampshire
-
03-07-13
Too expensive
C. Singleton - Shinfield
-
01-05-12
Were good for the quote and took time to explain all the options. But in the end were more expensive then the ones I went with.
R. Butler - Devizes
-
16-02-12
I cannot praise Alan and his team enough, they were on time, friendly, quick and tidy and installed my system within 2 weeks of my first contact. 10/10 for them.
W. Cassie - Corby
-
16-02-12
Alan Bates has been good, has kept in contcat via email and phone and has responded to all questions and requests. Installation was broken due to supply and demand which was disappointig - but they came up with the goods and delivered as promised.
B. Woolnough - Abingdon
-
30-01-12
Brilliant! They were helpful, efficient, quick and did all they promised. They have fitted 18 panels on the roof, and we are delighted with their work, and price.
D. Woolnough - Wokingham
-
26-01-12
No comments (only rating)
M. Merricks - Bedford
-
28-10-11
Got a good price, installed in time for higher feed in tarrif, 1st class service.
M. El-Hakim - Walton-on-Thames
-
26-10-11
Very understanding and helpful.
M. Aitken - Biggleswade
-
17-10-11
Extremely helpful, very knowledgeable, would reccomend
G. Henshaw - South Warnborough
-
12-10-11
Managing Director personally involved throughout process, installation crew subcontracted and not a tight team. Good installation.
A. Cottingham - Faringdon
-
08-10-11
Estimate provided but follow up questions never answered. It is now to late to get it installed before FiT is reduced and then I calculated it will no longer viable.
S. Nobbs - Harpenden
-
08-10-11
No comments (only rating)