Fair Energy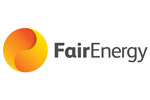 1, Emperor Way, Exeter Business Park
EX1 3QS
,
Exeter, Devon
0845 12 66 555
Experience rating

Working Area
Company description
Fair Energy specialise in full service design and installation of photovoltaic and solar heating systems for businesses, homes and communities. Our goal is to provide efficient and effective renewable energy technologies to lower fuel costs and carbon dioxide from fossil fuels. We have the technical, mechanical and engineering expertise to design and install the most efficient solar PV and heating systems and have many years' experience in the renewable energy industry, at commercial and domestic level. Our range of products are selected for their outstanding efficiency, build-quality and long service life. We also offer annual servicing and general backup.
Services
We also Specialise in Biomass Boiler systems which are to play a big part in the governments incentivised plans to move away from traditional oil and LPG systems and maximise the use of our woodland to help to promote self-sustainability within the UK. Please visit www.fairenergy.org.uk for more information.
Warranty
30 year power guarantee (MAGE technologies, 12 years @ 90% 18 years @ 80%) Plus 10 year workmanship guarantee.
Customer feedback about Fair Energy (4 / 5)
(based on 1 reviews)
G. Reddan - Coleford
-
07-09-11
Very good but slightly more expensive