Sun Spirit Ltd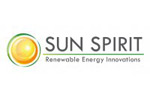 2 West Quay Court, Crown Road, Sunderland, Tyne & Wear
SR5 2BX
,
Sunderland
0191 5118133
Experience rating

Working Area
Solar panel prices from Sun Spirit Ltd
2 kWp / ± 8 panels (More)
Panel brand
Price incl. VAT
System size #, Wp, efficiency

2.1 kWp


7 x 300 Wp (18%)

2.0 kWp


8 x 250 Wp (15%)

2.0 kWp


8 x 250 Wp (15%)
3 kWp / ± 12 panels (More)
Panel brand
Price incl. VAT
System size #, Wp, efficiency

3.0 kWp


12 x 250 Wp (15%)

3.0 kWp


12 x 250 Wp (15%)

3.0 kWp


12 x 250 Wp (15%)
4 kWp / ± 16 panels (More)
Panel brand
Price incl. VAT
System size #, Wp, efficiency

4.0 kWp


15 x 265 Wp (16%)

4.0 kWp


16 x 250 Wp (15%)

4.0 kWp


16 x 250 Wp (15%)
Company description
Sun Spirit have a firm commitment to providing the most efficient systems available in the marketplace, seeking to provide the best rates of return on your investment. We continue to use only the premium products on the market place and our installation teams, as well as having the requisite qualifications, have great experience and a desire to produce high quality installations. We now have a client base which includes Balfour Beatty, Laing O'Rourke, NHS and Sunderland City Council, as well as several local sports clubs. Hopefully this will reassure you that you are dealing with a company of the highest calibre, with a proven track record.
Services
Each installation team comprises of a qualified electrician and roofers with vast experience. We are therefore able to undertake any associated construction or remedial works as required.
Warranty
Customer Warranty for Installation Services The Warranty sets out the terms upon which Sun Spirit offers warranty cover for the Products supplied by it to its Customers, and for the installation services provided by Sun Spirit Registered Installers. Terms defined in Sun Spirit's Terms and Conditions bear the same meaning when used in this warranty. Your attention is drawn to Sun Spirit's Terms and Conditions, which includes provisions relevant to the warranty set out below. 1. Installation services 1.1 Sun Spirit warrants to the customer that the Installation Services will be performed by the appropriately qualified and trained Sun Spirit Registered Installers using reasonable care and skill, to such high standard of quality as it is reasonable for the Customer to expect. 1.2 The Warranty Period for the Installation Services shall be ten years from completion of the Installation Services 2 Remedial Action 2.1 Where a valid claim in Respect of the manner of performance of the Services is notified to the us in accordance with Sun Spirit's Terms and Conditions, Sun Spirit may arrange for the relevant Products to be reinstalled by any of Sun Spirit's Registered or approved Installers or, at Sun Spirit's sole discretion, refund to the Customer the charge for the relevant part of the Installation Service (or a proportionate part of such charge), in which case Sun Spirit shall have no further liability to the customer. 3 Exceptions 3.1 This Warranty will not apply: 3.1.1 Unless the Product has been installed by a Sun Spirit Registered Installer and has been properly used and maintained throughout the Warranty Period. 3.1.2 Unless the Customer has informed Sun Spirit of the alleged defect within the Warranty Period and within a reasonable period of discovery. 4. General conditions 4.1 The Customer agrees that he will promptly provide all information and support including access to site and services) reasonably necessary to enable Sun Spirit to evaluate any alleged defect and to perform its obligations under this Warranty. 4.2 The Customer agrees that all premises, plant, power, fuel support services and other inputs that he is providing for the installation and use of the Products are reasonable, are fit for purpose and will be properly used and provided. 5 Expertise 5.1 Any dispute as to whether a defect is covered by this warranty shall be immediately referred at the request of either party to an independent expert whose identity has been agreed by both parties or in default of agreement within 14 days of referral then who shall be appointed by the President for the time being of the trade association or professional association that most closely affects the Products. 6 Third Party Rights 6.1 The benefit of this Warranty shall be exercisable by Sun Spirit's Customer or, in cases when the property to which a system has been installed is sold within the Warranty Period, to the new legal owner of the property. It may not be transferred to or exercised by any third party. 7 Law 7.1 This warranty shall be construed in accordance with English law and shall be subject to the exclusive jurisdiction of the English courts. 8 Manufacturer's Product Warranty 8.1 Most Products supplied by Sun Spirit come with the benefit of a manufacturer's product guarantee. Where a claim in respect of any of the Products is notified to Sun Spirit by a Customer in accordance with the Sun Spirit Terms and Conditions, Sun Spirit will liaise with the manufacturer and use all reasonable endeavours to secure a replacement of the Product or the part in question or (at the manufacturer's discretion) a refund of the price of the Product (or a proportionate part of the price), in which case Sun Spirit shall have no further liability to the Customer.
Example installations
Customer feedback about Sun Spirit Ltd (3.8 / 5)
(based on 5 reviews)
R. Caswell - Middlesbrough
-
21-10-15
Good very informative
Curry - Sunderland
-
29-05-15
good info
J. Corley - Harbottle
-
02-09-12
Excellent good back-up support
D. Scott - Birtley
-
12-08-12
Overpriced (massively) on options compared to others
A. Urwin - Hexham
-
25-01-12
Communication between office departments don't seem joined up