Solar Advanced Systems Ltd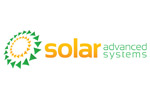 Unit 9, Edenbridge Trading Centre
TN8 5EA
,
Edenbridge
01732 866731
Experience rating

Working Area
Company description
We are an established renewable energy supplier with a backing of over 30 years within the Mechanical and Electrical sector. Are head office is based in East Grinstead on the Surrey, Sussex, Kent border and we also have offices in Lancing and Carfiff
Services
We offer domestic and commercial electrical services. We offer consultancy for planning and architects. We are service providers for Fronius UK.
Warranty
We offer an industry leading 5 years independant deposit and installation warranty.
Example installations
Customer feedback about Solar Advanced Systems Ltd (3.9 / 5)
(based on 18 reviews)
D. Crawshaw - Surrey
-
01-10-12
Excellent all round service and keen price
P.Curnow-Ford - Bramshott
-
12-08-12
Quotation received, not decided yet
D. Hough - Orpington
-
11-08-12
They have been in contact several times both by email and phone and have been so far as I can tell extremely knowledgeable and unbiased. As we are still in discussion over solar PV and thermodynamic CH and HW I have yet to compare their prices but I am certainly expecting them to be supplying my heat recovery ventilation.
C. Singleton - Shinfield
-
01-05-12
Were the cheapest of the ones I got quotes from and used them to do the install. Very good job as far as I can tell.
M. Barrett - Manchester
-
25-02-12
No comments (only rating)
S. Horrox - Chichester
-
30-01-12
Very helpful but too pushy
I. Adam - London
-
23-01-12
Great service and advice
E. Godden - Colchester
-
18-01-12
Excellent. Very happy with the service.
A. Peck - Newick
-
16-01-12
Had I decided to go ahead with this company another site visit would have been required. I felt it was a pity that the salesman did not have enough knowledge/ability to do this himself.
G. Henshaw - South Warnborough
-
12-10-11
No follow up after survey
A. Oglesby - Southbourne
-
26-09-11
Installed and comissioned ok
D.Palmer - Abergavenny
-
30-08-11
Limited contact, no site visit that I remember.